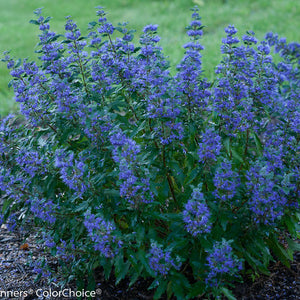 FEATURES
Dark and dreamy!
You'll love this new caryopteris - it has extremely dark, glossy foliage, a compact habit, and deep blue flowers. It adds much-needed color to the late summer landscape and makes a handsome companion with perennials. A great favorite with pollinators of all types!
Top three reasons to grow Beyond Midnight® caryopteris:
Adds fresh color to the landscape late in the season
Attracts bees, butterflies, and hummingbirds
Better color and habit than other caryopteris 
Deadheading Not Necessary
Attracts: 
Bees
Butterflies
Hummingbirds
CHARACTERISTICS
Garden Height: 
24 - 30 Inches
Foliage Shade: 
dark, glossy
PLANT NEEDS
Maintenance Category: 
Easy
Hardiness Zones: 
5a
,
5b
,
6a
,
6b
,
7a
,
7b
,
8a
,
8b
,
9a
,
9b
Uses Notes: 
Mixed borders; perennial gardens
Maintenance Notes: 
Caryopteris demands a sunny spot and very well-drained soil. Wet soils, particularly those that remain soggy during periods of cold weather, will cause root rot. For this reason, we recommend early season planting of caryopteris in zones 5 and 6.
Caryopteris should be cut back every spring to ensure sturdy, dense growth. You may give it a light trim in late autumn, once it has gone dormant, to remove the old flowers and eliminate possible seed spread. However, do not cut into any thick, woody stems until new growth begins to emerge in spring. Then, cut the whole plant back to just above where large, healthy buds are emerging.
Fun Facts: 
Caryopteris is also known as bluebeard or blue mist spirea - but it's not a spirea at all. In fact, they're not even remotely related.
Beyond Midnight®
Caryopteris
x clandonensis
'CT-9-12'
USPP 27,426

,

 

Can 5,414