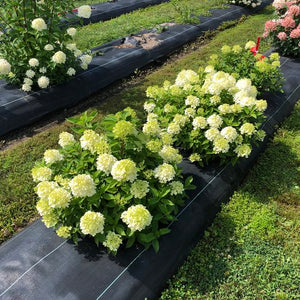 FEATURES
If you thought you didn't have enough space to grow a beautiful, reliable panicle hydrangea, Fire Light Tidbit® hydrangea is here to help! This innovative new development is the tiniest, tidiest panicle hydrangea yet: it reaches just 2-3'/.6-.9m tall and wide, yet it packs in tons of easy-care beauty into its small size. Big, lush panicles of white mophead flowers appear in early-mid summer, nearly obscuring the textured green foliage. As the summer progresses, they begin to develop bright pink and red tones, which keep it colorful right on up to the first frost, especially combined with its colorful autumn foliage, an unusual trait in panicle hydrangeas. Thick, sturdy stems help to create a neat, mounded plant that's fantastic in landscapes, flower gardens, even in containers! We absolutely love this little beauty paired with the legendary Supertunia Vista Bubblegum petunia.
Top reasons to choose Fire Light Tidbit hydrangea for your garden or landscape:
- The smallest panicle hydrangea ever - just 2-3'/.6-.9m tall
- Powerful blooming ability, with dozens of full mophead flowers on strong stems
- Flowers go from white to rich, saturated tones of pink and red as they age
Available in better garden centers beginning in spring 2021; click here to see a list of retailers.
Deadheading Not Necessary
CHARACTERISTICS
Garden Height: 
24 - 36 Inches
Flower Shade: 
White, turning bright pink and red shades in fall
PLANT NEEDS
Light Requirement: 
Part Sun to Sun
The optimum amount of sun or shade each plant needs to thrive: Full Sun (6+ hours), Part Sun (4-6 hours), Full Shade (up to 4 hours).
Maintenance Category: 
Easy
Hardiness Zones: 
3a
,
3b
,
4a
,
4b
,
5a
,
5b
,
6a
,
6b
,
7a
,
7b
,
8a
,
8b
Soil Fertility Requirement: 
Average Soil
Soil PH Category: 
Acidic Soil
Uses Notes: 
Thanks to its small stature, Fire Light Tidbit hydrangea is eminently versatile in the garden and landscape. Plant it amongst perennials in a flower garden, use in foundation plantings and landscaping as a mass planting, edging, or specimen, or plant it in containers for long-lasting, easy-care beauty year after year.
Maintenance Notes: 
Prune by cutting back the main branches by one-third in late winter or early spring. You may also prune in late fall, once it has gone completely dormant, if desired - you'll find more information in our Ultimate Guide to Panicle Hydrangeas. 
Panicle hydrangeas require well-drained soil. As such, we do not recommend amending the soil when you plant them, as explained here. 
Fertilize in early spring (just as the ground begins to thaw in cold climates) if desired, using a granular rose fertilizer. You may fertilize monthly through late July for more rapid growth, but this is not necessary for a healthy, abundantly-blooming plant.