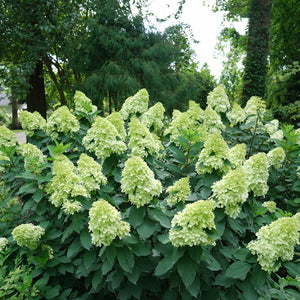 FEATURES
The next generation of 'Limelight' is here! Introducing Limelight Prime® hydrangea.
In a very short time, Limelight hydrangea became one of the most popular plants ever - but that doesn't mean that there wasn't room for improvement. So we've spent years developing this new selection that does everything better than the original, from bud to bloom and beyond. Here's how Limelight Prime hydrangea is different:
blooms much earlier, creating a longer display. This is especially valuable in colder climates, where 'Limelight' might not bloom until late August.
bolder, brighter color. As the green blooms age, they develop pink and red tones that are far more vivid and showy than conventional panicle hydrangeas.
stronger stems. Though strong stems is a crucially important factor in the panicle hydrangeas we select for Proven Winners ColorChoice Shrubs, you can count on Limelight Prime to hold its big blooms up all summer long.
useful smaller size. Limelight Prime reaches a very garden- and landscape-friendly 4-6'/1.2-1.8m tall and 4-5'/1.2-1.5m wide. 
What's the same? You can count on Limelight Prime hydrangea to produce dozens of big, beautiful, mophead blooms every year, even in cold climates. It also makes a fantastic cut flower, both fresh and dried. And it's still one of the easiest to grow, most rewarding hydrangeas you can plant. 
Limelight Prime hydrangea will be available in better garden centers beginning spring 2021; click here for a list of retailers. 
Deadheading Not Necessary
CHARACTERISTICS
Garden Height: 
48 - 72 Inches
Flower Shade: 
Green, turning bright pink and red shades in fall
PLANT NEEDS
Light Requirement: 
Part Sun to Sun
The optimum amount of sun or shade each plant needs to thrive: Full Sun (6+ hours), Part Sun (4-6 hours), Full Shade (up to 4 hours).
Maintenance Category: 
Easy
Hardiness Zones: 
3a
,
3b
,
4a
,
4b
,
5a
,
5b
,
6a
,
6b
,
7a
,
7b
,
8a
,
8b
Soil Fertility Requirement: 
Average Soil
Soil PH Category: 
Acidic Soil
Uses Notes: 
Limelight Prime hydrangea is an excellent choice for a commanding specimen or flowering hedge. It's also nice as a backdrop for a garden, or as the centerpiece of a perennial or flower garden.
Maintenance Notes: 
Prune by cutting back the main branches by one-third in late winter or early spring. You may also prune in late fall, once it has gone completely dormant, if desired - you'll find more information in our Ultimate Guide to Panicle Hydrangeas. 
Panicle hydrangeas require well-drained soil. As such, we do not recommend amending the soil when you plant them, as explained here. 
Fertilize in early spring (just as the ground begins to thaw in cold climates) if desired, using a granular rose fertilizer. You may fertilize monthly through late July for more rapid growth, but this is not necessary for a healthy, abundantly-blooming plant.