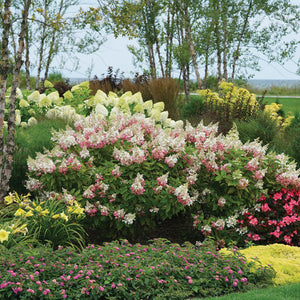 FEATURES
Huge two-toned blooms!
Pinky Winky has an unusual name, and an even more unusual flower. The large white panicles open in mid to late summer, and as summer turns to fall the florets at the base of the panicles turn pink. The flower panicles continue to grow, producing new white florets at the tip. The result is spectacular two-toned flower panicles that can reach up to 16 inches in length! This is a real show-stopper that's also very easy to grow. Adaptable to most soils and both sun and shade, Pinky Winky will thrive in most gardens.
CHARACTERISTICS
Garden Height: 
72 - 96 Inches
Flower Shade: 
Two-toned pink and white
Foliage Shade: 
Dark Green
PLANT NEEDS
Light Requirement: 
Part Sun to Sun
Maintenance Category: 
Easy
Hardiness Zones: 
3a
,
3b
,
4a
,
4b
,
5a
,
5b
,
6a
,
6b
,
7a
,
7b
,
8a
,
8b
Uses Notes: 
An outstanding specimen plant or element in the mixed border. It can also be grown in the cutting garden.
Maintenance Notes: 
Prefers good, loamy soil. Adaptable to many soils, moderate moisture required. Blooms regardless of climate, soil, pH or pruning. Can be easily maintained as a smaller plant or trained into a small tree. Prune in late winter/early spring. Fertilize in early spring by applying a slow release fertilizer specialized for trees and shrubs. Follow the label recommendations for rates of application.
Pinky Winky®
Hydrangea
paniculata
'DVP PINKY'
USPP 16,166

,

 

Can 2,889