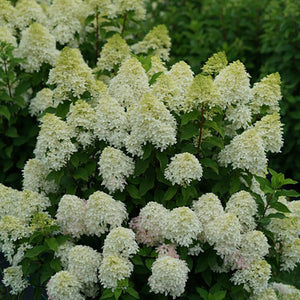 FEATURES
Absolutely fabulous!
Quick Fire Fab® panicle hydrangea shares the same super-early bloom time, rock-solid reliability, and easy-going nature of the original Quick Fire hydrangea, but adds big, full, showy mophead blooms to the mix. How fabulous is that? It's the best way to get the earliest possible panicle hydrangea flowers, expanding the seasonal display by two weeks or more every year. 
If you look closely at the lush blooms, you'll see each floret has an unusual cruciform shape which gives them a textural effect you won't find in other panicle hydrangeas. As the blooms age, they turn blush pink, then bright pink, then red, from the bottom up, making each one look like a big delicious ice cream cone that goes from vanilla to berry as the summer progresses. Quick Fire Fab provides 3+ months of flowers and color in your landscape or garden, and does it all with almost no work or effort from you.
Top reasons to grow Quick Fire Fab hydrangea:
- The earliest blooming mophead panicle hydrangea - enjoy extra weeks of blooms
- Unique X-shaped flowers go from white to pink to bright pink to deep red through the season
- Strong, sturdy stems keep blooms clean, upright, and showy all year round
Quick Fire Fab hydrangea will be available in better garden centers beginning spring 2021. Click here for a list of retailers. 
Deadheading Not Necessary
CHARACTERISTICS
Garden Height: 
72 - 96 Inches
Flower Shade: 
White, turning bright pink and red shades in fall
PLANT NEEDS
Light Requirement: 
Part Sun to Sun
The optimum amount of sun or shade each plant needs to thrive: Full Sun (6+ hours), Part Sun (4-6 hours), Full Shade (up to 4 hours).
Maintenance Category: 
Easy
Hardiness Zones: 
3a
,
3b
,
4a
,
4b
,
5a
,
5b
,
6a
,
6b
,
7a
,
7b
,
8a
,
8b
Soil Fertility Requirement: 
Average Soil
Soil PH Category: 
Acidic Soil
Uses Notes: 
With its full size and vigorous growth, Quick Fire Fab will make a commanding specimen in the landscape or a truly memorable flowering hedge. If you are looking for something similar but smaller, consider Fire Light Tidbit or Little Quick Fire hydrangea. 
Maintenance Notes: 
Prune by cutting back the main branches by one-third in late winter or early spring. You may also prune in late fall, once it has gone completely dormant, if desired - you'll find more information in our Ultimate Guide to Panicle Hydrangeas. 
Panicle hydrangeas require well-drained soil. As such, we do not recommend amending the soil when you plant them, as explained here. 
Fertilize in early spring (just as the ground begins to thaw in cold climates) if desired, using a granular rose fertilizer. You may fertilize monthly through late July for more rapid growth, but this is not necessary for a healthy, abundantly-blooming plant.
Quick Fire Fab®
Hydrangea
paniculata
'SMNHPM'
USPP 32,513

,

 

Can PBRAF