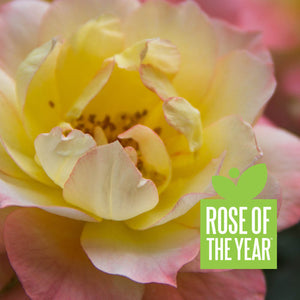 FEATURES
This variety rebels against the idea that roses are hard to grow!  No spraying, no deadheading, just lots of flowers all season long!
Similar to 'Peace' in its coloration, the orange buds of Oso Easy Italian Ice® rose open to soft yellow flowers melting into pink blushed margins. The soft flower color is set off nicely by its dark green, glossy foliage. Flowers are semi-doubled, with 24-30 petals per bloom. This self-cleaning rose has excellent disease-resistance, abundant flowers, and a nice habit, making it an excellent plant for home gardens.
Oso Easy Italian Ice rose is featured in our "Mama Mia" magazine advertisment.
Top reasons to grow Oso Easy Italian Ice rose:
- Multi-toned flowers bring unbelievably beautiful color to the garden or landscape - flower color is even more intense in autumn!
- Glossy, dark green foliage resists diseases
- Blooms all season without deadheading.
Continuous Bloom or Rebloomer
Deadheading Not Necessary
CHARACTERISTICS
Garden Height: 
18 - 30 Inches
Flower Shade: 
Soft yellow melts into pink margins with a hint of orange
PLANT NEEDS
Maintenance Category: 
Easy
Hardiness Zones: 
4a
,
4b
,
5a
,
5b
,
6a
,
6b
,
7a
,
7b
,
8a
,
8b
,
9a
,
9b
Uses Notes: 
Landscapes, containers
Maintenance Notes: 
Prefers moist, well-drained soils. Pruning is generally not needed, but may be shaped in spring.  It does not need spraying.
Oso Easy Italian Ice®
Rosa
x
'CHEWNICEBELL'
USPP 26,532

,

 

Can 5,131